December 17, 2004
Launch of Final Patrol Boat in Austal's Fleet of 10 Vessels for Yemen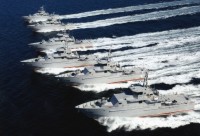 Austal has launched the tenth and final fast naval patrol boat ordered by the Republic of Yemen in June 2003.
They have been designed to meet a variety of operational requirements including general police missions in coastal waters; customs control and anti-terrorist operations at sea; offshore protection and tracking; surveillance of the Exclusive Economic Zone; defence and protection of national sea areas and operations within integrated task forces.
The patrol boat capabilities of Austal were first highlighted to the Yemen Ministry of Defence as part of an extensive requirements and worldwide market analysis carried out by an international strategic consultancy firm. Some 24 shipyards, including builders from Asia and eastern and western Europe were studied as part of this process. Impressed by Austal's naval design capability, value for money and short delivery times the consultants identified the Australian builder as the preferred supplier.
Austal's Sales and Product Development Manager Mr. Glenn Williams says Yemen is receiving a well-built, well-engineered and well-supported patrol boat fleet.
"Based on the eight Bay Class patrol boats Austal delivered to the Australian Customs Service in 1999/2000, these 37.5 metre deep V monohull patrol boats offer exceptional value for money by combining world best shipbuilding techniques and commercial-off-the-shelf (COTS) equipment," he said.
"The aluminium construction contributes to both excellent high speed performance and through-life economies due to reduced propulsive power and maintenance requirements."
The moderate power of two Caterpillar 3512 diesel engines driving fixed pitch propellers through Reintjes gearboxes ensured the contract speed of 29 knots was achieved on trials. This twin screw propulsion system blends mechanical reliability and simple, efficient operation with ease of maintenance and is backed by the suppliers' own well-established service and spares networks.
Twin rudders, fabricated from stainless steel, ensure maximum manoeuvrability and are offset from the screws to facilitate easy shaft removal.
The excellent seakeeping of the deep-V, single chine, semi-displacement hullform has already been proven through extensive tank testing and subsequent operational experience with the Australian Customs Service. This will facilitate operations well out into the nation's territorial waters. Operating range is in excess of 1000 nautical miles.
In order to enforce local and international laws, within Yemen's territorial waters each patrol boat is fitted with a 25mm twin barreled naval gun and two 12.7mm heavy machine guns. Weapons lockers for the machine guns and small arms are fitted and ready use ammunition lockers are located adjacent to each gun mounting.
To facilitate all possible combinations of functions that the vessel will be expected to perform with emphasis on safety and efficiency the deck layout has been designed with an absolute minimum of trip points. Bulwarks are provided to the weather deck forward and a port and starboard walkway are provided around the superstructure. The weather deck is raised forward to improve the vessel's operating capability.
Aft on the Main Deck a crane is fitted allowing transfer of general cargo from the vessel to a seaboat or ship to shore. A RIB sea boat with a 40 horsepower outboard engine is also provided.
Each patrol boat operates with a complement of 19 comprising three officers and 16 sailors.
The interior fitout has been completed to a comfortable and easy to maintain commercial standard. Layout is arranged for maximum habitability taking into account vessel movement, noise, vibration and the flow of personnel when carrying out their shipboard duties.
The spacious wheelhouse is arranged for three man operations and located for around-the horizon visibility and minimal motion, thus reducing crew fatigue. The emphasis on using COTS equipment from reputable suppliers is clearly evident in the navigation, communication and control systems, not only on the bridge but also in the dedicated operations room.
Sleeping accommodation comprises the Captain's and Officers' cabins on the main deck and two six-berth and two two-berth crew cabins in the hull, all provided with ample storage space. There is also a ship's office and separate mess areas for officers and crew. In the mess rooms TV, video and audio entertainment system is fitted with a booster to enhance reception in marginal areas. A well-appointed galley and adjacent food storage allowing the vessels to spend at least 14 days at sea on patrol without replenishment. A fresh water maker is fitted to supplement potable water supplies.
The onboard air conditioning provides a comfortable working environment and has been designed taking the local climatic conditions, including extremely high air and sea temperatures, fully into account.
TRAINING PROGRAMME
In addition to designing and building the 10 modern patrol boats Austal has provided a substantial package of training for some 70 personnel, the aim of which is to ensure that crews can make the best use of the vessels' capabilities both when they enter service and for many years to come.
The training programme at the shipyard involved key members of each vessel's crew undertaking a combination of tuition and practical training. This included familiarisation with the vessels while they were under construction so that crews are conversant with structural, engineering and systems considerations as well as at-sea instruction covering the capabilities and operating procedures for the new patrol boats.
Importantly, personnel are also being given instruction and practical training in aluminium welding techniques so that they will be better equipped to undertake or supervise vessel repair and maintenance tasks at local facilities.
"With the quality and success of these latest patrol boats, Austal is very well placed to meet the full supply, training and support needs of defence and police agencies around the world. Austal's global reputation now speaks for itself and highlights our ability to deliver to the customer's performance requirements," Glenn Williams said.
Austal is currently building 12 new 56 metre patrol boats for the Royal Australian Navy construction of which commenced in April 2004 and will continue until mid-2007. The company is also progressing in the US Navy's Littoral Combat Ship (LCS) project through the award of a final design contract to the General Dynamics team in which Austal is the ship designer and builder.
PRINCIPAL PARTICULARS
Length Overall:
37.5 metres
Length Waterline:
32.4 metres
Beam Moulded:
7.2 metres
Hull Depth Moulded:
5.0 metres
Hull Draft (maximum):
2.2 metres
Crew:
3 officers
 
16 sailors
Armament:
1 x 25 mm twin barrelled naval gun
 
2 x 12.7 mm heavy machine guns
PROPULSION
Engines:
2 x Caterpillar 3512; 1305 kW at 1800 rpm each
Gearboxes:
2 x Reintjes WVS 730
Propulsion:
2 x fixed pitch propellers
Generators:
2 x Perkins Sabre 6TWGM, 83 kW each.
Maximum speed:
29.0 knots
Range (with 20% reserve):
1000 nautical miles
TANKAGE
Diesel Fuel
27,000 litres
Fresh Water
10,000 litres
Sewage
2,000 litres
Sludge
500 litres
Lube oil
500 litres
SURVEY
Classification:
Germanischer Lloyd
Survey Authority:
Government of Western Australia USL Code 2B
Further Information
| | |
| --- | --- |
| Contact: | Austal |
| Phone: | 61 8 9410 1111 |
| Fax: | 61 8 9410 2564 |
| Email: | media@austal.com |