September 12, 2003
Exceptional Cruise Yachts for an Exceptional Environment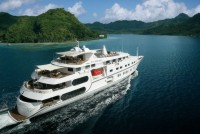 Austal's Tahitian sisters introduce motor yacht style to the cruise industry.
Two Austal Cruise Yachts are now providing exceptional vacation experiences in the magnificent waters surrounding French Polynesia's Leeward Islands.
The 74 passenger sisters are the first examples of Austal's new Cruise Yacht product line, so-named because they provide passengers with the most desirable features of a private motor yacht experience – an intimate onboard environment and the ability to visit locations that are inaccessible to larger ships – at a price more in keeping with traditional cruising.
"Tu Moana" and "Tia Moana" were purpose-designed and built by the diversified Australian shipbuilder for Bora Bora Cruises and offer seven day/six night cruises from the island of Bora Bora and beyond to the calm lagoons of neighbouring islands of Taha'a, Raiatea and Huahine.
Blessed with super yacht aesthetics by the Austal design team, the 69 metre monohulls are a perfect fit with the stunning scenery, complementing the environment rather than dominating it as larger commercial cruise ships often do.
The interiors were developed by Austal in conjunction with Bora Bora Cruises and Tillberg Design and are a harmonious blend of modern and traditional, European and Polynesian. This includes incorporating the strong themes portrayed by ancient rock drawings found in the Leeward Islands cruising area and, in homage to the primitive arts of Polynesia, a number of "Tiki" from the Marquises islands.
The final result is a distinctive and welcoming feel that is in perfect keeping with the exclusive but relaxed and friendly onboard environment that clearly differentiates the Austal Cruise Yacht product from the megaships that are found in the mainstream cruise markets.
Each Cruise Yacht has 37 spacious guest cabins, all featuring private ensuite facilities and stunning views through large picture windows. The 16m2 cabins incorporate the exquisite interior décor and designer features that guests would expect to find in a four or five star hotel. Modern fixtures such as large, bulkhead mounted flat screen television monitors, DVD players and satellite telephones are complemented by the classic elegance and warmth of richly coloured timber veneers and trim details. In addition, the cabins are all individually climate controlled and incorporate other practicalities such as large wardrobes, writing desks, minibar, personal safe and under bed luggage stowage.
Narrow vertical windows facing into the cabin make the generously sized ensuites feel even larger and lighter and are adorned with timber blinds for those times that privacy is required. The timber theme is continued with the teak floor grating in the shower, which is separated from the rest of the ensuite by a glass screen and door. The bright European style is enhanced by details such as the mosaic floor tiles, white porcelain, chrome fittings and the generous hand basin set atop the vanity unit as is the current trend ashore.
To provide accommodation flexibility, most cabins can be swapped between twin and double berth configuration. This is particularly important given the tremendous potential for whole-yacht charters by incentive, conference and other groups – a market that Bora Bora Cruises is already pursuing with success. Families are also catered for, with four cabins on the main deck being fitted with an extra child's bed that doubles as a settee.
The cross-cultural mix onboard is continued in the galley where chefs preparing sumptuous meals that combine French culinary expertise with the flavours and colours of the best local produce. Located on main deck and easily provisioned from large dry, refrigerated and freezer stores on the deck below, the galley is comprehensively equipped with commercial kitchen quality appliances so that this fine cuisine can be provided to all passengers in a single sitting.
Further aft and featuring large windows so that diners can maintain their connection to the spectacular surroundings, the restaurant is arranged around a central, granite-topped buffet unit beneath which there is ample storage in timber veneer faced cupboards. Layout flexibility means the restaurant can cater equally well for couples on romantic getaways, medium sized parties of friends both new and old, and larger settings for corporate and other groups.
Complementing the main restaurant is a covered outdoor dining/relaxation area on the aft deck. This consists of a sweeping cushioned lounge that curves around a series of pedestal tables and chairs. As with all external passenger areas the deck is covered with a synthetic teak flooring that provides the look and feel of timber without the cost and maintenance. The laced canvas sails used to line the deck overhang above are an equally attractive and practical solution.
Stairways either side of the lounge curve gracefully down to the aft swim platform and watersports marina which houses two tenders, a fleet of sea kayaks, snorkelling equipment and outdoor furniture that can be taken ashore to allow the entire guest complement to enjoy meals on the beach.
Austal's Sales and Product Development Manager, Glenn Williams, said this highlights another attractive feature of Cruise Yachts – ease of access to the water for swimming, diving and other water activities while the vessel is at anchor.
"On a cruise ship, if you want to swim you either head to a pool which is just like a pool ashore, or queue for a bus or transfer boat to take you to the beach," he said. "In contrast on an Austal Cruise Yacht guests can simply dive into the sea and later easily reboard the vessel via the swim platform to enjoy a refreshing drink at the bar. What's more the shallow draft means the Yachts can approach close to shore enabling passengers to swim ashore to explore."
Those looking for physical activity of a different nature can make use of the onboard fitness centre located on the main deck just forward of the central foyer and reception area, where the floor is adorned with Polynesian motifs such as turtles. The curved staircase leading to the deck above blends function and art, with a mosaic tiled feature wall providing a backdrop to the stairs themselves, which incorporate stylish frosted glass stair treads highlighted by concealed lighting.
In addition to 14 passenger cabins, the upper deck includes indoor and outdoor public spaces both forward and aft.
Pride of place on the foredeck belongs to a four-person spa with a jade marble finish and set in an upstand that repeats the mosaic tile finish found elsewhere onboard. Either side of the spa are built-in lounges, while a centreline door through the forward bulkhead leads into a dedicated reading room.
Running the full width of the superstructure and overlooking the spa lounge, the reading room seats 12 in comfort in a mixture of armchairs and double sofas. In addition to a selection of books, passengers are provided with self-serve tea and coffee and have access to internet connections.
At the opposite end of this deck is an enclosed lounge bar and entertainment area that opens out onto an al fresco sitting area. Together these spaces can seat a full passenger load, with table and chair arrangements inside and out, fixed lounges outside and bar stools and sofas inside. The bar itself has a timber veneer front and stone-look top, and is equipped with a full range of bar equipment including under counter refrigerators, glass washer, ice cube dispenser and espresso machine.
Mounted against the aft bulkhead is a large screen which, coupled with the ceiling mounted video projector and sound system, allows the lounge to be used as a mini theatre either for lectures/presentations or pure entertainment. As with the restaurant, large windows provide panoramic views across the lagoons.
The forward section of the bridge deck houses a modern wheelhouse, aft of which are two comfortable cabins for the senior officers. Twenty-four passengers can also sleep and relax in comfort in the 12 cabins on this uppermost accommodation deck, which also features extensive outdoor deck area.
The sun deck provides magnificent views around the horizon, and is certain to be one of the most popular areas onboard. Here passengers can enjoy a spa, a cooling drink or simply relax and soak up the sunshine. A series of teak outdoor lounges are arranged forward on either side, while an eight person spa is partially shaded by a canvas sail.
Between the twin funnels and protected from above by a distinctive aluminium wing is the bar. Like the spa, this is faced with mosaic tiles while the bar top is lacquered teak. Five stainless steel stools face the bar, which also serves a separate shaded sitting area with curved lounges and tables on the aft section of the deck.
Each of Bora Bora Cruises' vessels will operate with a total of 37 crew – one for every two passengers. Glenn Williams said the high level of service this ensures is a feature that is generic to Austal's Cruise Yachts.
"With smaller numbers of passengers onboard, Cruise Yacht operators can ensure that each guest receives high level personal service, so that they feel more like a VIP among friends on a private motor yacht than a nameless face among the crowd," he explained.
On "Tu Moana" and "Tia Moana" the bulk of the crew accommodation is located in the forward section of the lower deck, with 32 crew housed in a mixture of four and two berth cabins, and separate double cabins for the First Officer, Cruise Director and Chef. Other facilities on this level include a laundry, ship's office and the crew mess, which is served from the main galley on the deck above.
The machinery space houses twin MTU diesels, each of which drives a fixed pitch propeller to give cruising speeds up to 14 knots. The electrical load is handled by three diesel generator sets. A 100kW bow thruster is fitted to enhance manoeuvrability – important when working in lagoons, around reefs and close to shore.
The key to safely accessing these rarefied cruising grounds is the shallow draft of the aluminium monohulls, while bilge keels and active fin stabilisers ensure that comfort is maintained during the four short ocean crossings in each itinerary. These transits are typically undertaken in the very early hours of the morning, enabling guests to enjoy sunrise in the tranquillity of a new lagoon.
"With their ability to enter areas that are inaccessible to large ships, Austal Cruise Yachts offer passengers truly unique experiences," said Glenn Williams.
"Instead of starting the day alongside a wharf in a commercial port as is often the case on a large ship, Cruise Yacht passengers can wake to find the vessel anchored in a calm, crystal clear lagoon just metres off a pristine beach, nestled in the spectacular surrounds of a fjord, or up a river enclosed by lush rainforest. It's a totally different, and very desirable, cruising alternative."
This experience of discovering a promising new horizon parallels what Austal is aiming to achieve with its Cruise Yachts – awakening the travel industry to the possibilities that exist for more intimate at-sea holidays on custom-designed and purpose-built vessels like "Tu Moana" and "Tia Moana".
Austal believes Cruise Yachts are a logical way for operators to develop markets that are not part of the mainstream cruising scene. According to Glenn Williams that may mean providing guests luxury at a premium ticket price or running more affordable cruises.
"Austal's philosophy has always been to build a vessel that meets a specific demand, and our Cruise Yachts are no different. One might be ultra-luxury, five star and the next might be of a fairly basic but still comfortable standard appropriate for the operator targeting the more budget-conscious passenger," he said. "Either way, there are clear benefits to be had from commissioning a purpose-built Cruise Yacht from Austal."
PRINCIPAL PARTICULARS
Length Overall: 69.1 metres
Length Waterline: 59.4 metres
Beam Moulded: 13.8 metres
Hull Depth Moulded: 4.8 metres
Draft: 2.2 metres
Deadweight: 78 tonnes
Gross tonnage: 1,697
Nett tonnage: 631
Passengers: 74 lower berths (78 max)
Passenger cabins: 37
Crew: 37
Fuel (maximum): 41m3
Fresh water: 26m3
Sewage: 68m3
Water ballast: 35m3
Speed: 14 knots
MACHINERY
Engines: 2 x MTU 16V 2000 M60; 800kW at 1800rpm each
Gearboxes: 2 x Reintjes WAF 464
Propellers: 2 x Veem
Auxiliaries: 3 x MAN D2866 LXE; 230kW at 1500rpm each
Bow thruster: Schottel; 100kW
SURVEY
Classification Bureau Veritas Class 1  Hull  Machinery Passenger Ship AUT-UMS Summer Zone
ENDS
Further Information
| | |
| --- | --- |
| Contact: | Austal |
| Phone: | 61 8 9410 1111 |
| Fax: | 61 8 9410 2564 |
| Email: | media@austal.com |