November 1, 2000
Australian Customs Service Praises New Patrol Boat Fleet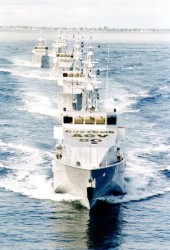 With the completion of the Australian Customs Service's fleet of eight new state-of-the-art patrol boats, Australian coastal surveillance capability has been significantly boosted. The Commonwealth of Australia contract was executed in May 1998 with each 38 metre vessel completed and phased into operation on time as scheduled throughout the contract. The final three vessels were delivered in August 2000.
Commenting on the new fleet, Australian Customs Service National Manager of Border Operations, Peter Thompson, said, "That eight highly technical vessels could be delivered not only on time and budget, but also to such a high standard, is a credit to Austal."
"Austal should be commended not only for the innovative design of the patrol boats, but also the professional way in which they have managed the construction," said Mr Thompson.
"Feedback from our crews and indeed the many people that have sailed the vessels has been very positive and their performance to date has established great credibility and significantly enhanced our service."
Since the first of the Bay Class patrol boats was phased into operation in February 1999, they have proved to be a great success and as part of their every day work have been involved in major drug interceptions, interception of suspect illegal entrant vessels, surveillance and search and rescue. Significantly, Holdfast Bay (Hull 132) played an integral role in the largest cocaine haul ever in Australia off the coast of NSW in February 2000.
With the completion of the delivery program, Austal and the Australian Customs Service have entered a new phase of their relationship, with Austal providing a comprehensive maintenance program for the vessels at the various Australian ports and regions in which they operate for a period of 3 ½ years. In the terms of the contract, the Commonwealth has the option to extend the maintenance service to a ten year period.
Further Information
| | |
| --- | --- |
| Contact: | Austal |
| Phone: | 61 8 9410 1111 |
| Fax: | 61 8 9410 2564 |
| Email: | media@austal.com |