December 16, 2018
AUSTAL EXPORT OPPORTUNITY SUPPORTED BY AUSTRALIAN GOVERNMENT FINANCING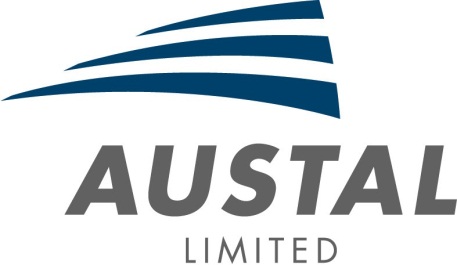 COMPANY ANNOUNCEMENT
17 DECEMBER 2018
AUSTAL EXPORT OPPORTUNITY SUPPORTED BY AUSTRALIAN GOVERNMENT FINANCING
AUSTAL (ASX: ASB) is pleased to announce that the Commonwealth of Australia, through the Defence Export Facility, has made available a loan facility, of up to AU$80 million, to support the acquisition of two Cape Class Patrol Boats. The facility will be made available to the Government of the Republic of Trinidad & Tobago (GoRTT) to assist it in purchasing the vessels from Austal. Austal will take no financial liability if the loan is utilised.
Austal previously reported in July the intention of the GoRTT to purchase these patrol boats. An interim Schedule Protection Agreement has been signed and a fee is due to be paid to allow Austal to commence some work on the project and to order long lead time items.
The GoRTT had previously requested that purchase of the ships be supported by a financing package to be provided by the Export Finance and Insurance Corporation (EFIC). Today's announcement by the Commonwealth of the Defence Export Facility being available for this program will support the contractual negotiations with Trinidad & Tobago. The support by both the Commonwealth and the Royal Australian Navy for this program has contributed greatly to its development to date.
If this program turns into an effective contract, a further announcement will be made at that time. It is expected that a contract will not be announced until late in quarter 1 of the 2019 calendar year.
- ENDS -
Further Information:
Austal Media Contact:
Contact:             Gemma Whiting - Government Relations
Mobile:              +61 (0)408 982 727
Email:                gemma.whiting@austal.com
Further Information
| | |
| --- | --- |
| Contact: | Austal |
| Phone: | 61 8 9410 1111 |
| Fax: | 61 8 9410 2564 |
| Email: | media@austal.com |